Thursday's programme highlights
A special emphasis on funds dedicated to community/industry development – including women in tech initiatives – in the various RIR service regions: AFRINIC (FIRE Africa), APNIC (APNIC Foundation), RIPE NCC (RIPE NCC Community Projects Fund), LACNIC (FRIDA regional fund for digital innovations).
A description of activities to increase awareness of, and enhance participation in, the Policy Development Process.
A presentation on the findings of the ASO Review Report,  presenting three options to be considered for next steps in the Internet number community:

Status quo
Increased coordination
Adoption of two-house "ASO Council"

An epic journey through SUNET's comprehensive renovation of a Swedish fibre network.
A description of Akamai's traffic optimisation via the implementation of a multiservice backbone solution.
A peek into the specificity of UAE customs codes, and the joy of surprise power outages due to vacuum cleaner interference.
Meeting Statistics:
483 attendees checked in
176 first-time attendees
RIPE Networking App (totals for the week): 251 participants; 561 messages; 741 meetings!
Attendees from more than 54 countries
RIPE Working Group co-Chair Changes
MAT WG: Brian Trammell replaces Christian Kaufmann
Routing WG: Ignas Bagdonas replaces Joao Damas
DNS WG: Joao Damas replaces Jaap Akkerhuis
Database WG: David Hilario stepped down
IoT WG: Jim Reid volunteered to be chair-elect
RIPE Programme Committee Changes
Thank you to outgoing PC members Jelte Jansen, Alex Semenyaka and Mike Hughes
Welcome to new PC members Khalid Samara and Dmitry Kohmanyuk
Elise Gerich, VP of ICANN and IANA/PTI, NANOG co-founder and beloved community member, announced her retirement. Hans Petter Holen, on behalf of the RIPE community, thanked Elise for her many years of service.
Hans Petter Holen announced the IoT WG Proposed Charter and the RIPE Diversity Task Force Draft Charter.
The RIPE NCC Executive Board appointed Hervé Clément as NRO NC representative from the RIPE NCC service region.
Our favourite tweets: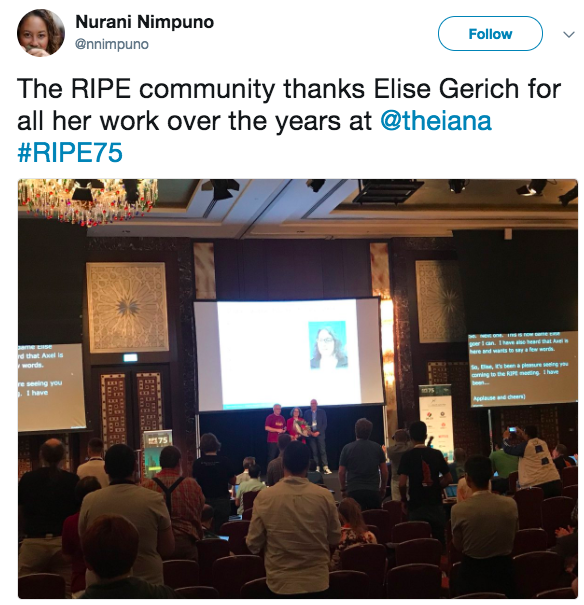 Thank you for making RIPE 75 a success. See you all at RIPE 76 in Marseille from 14-18 May 2018.