Sunday, 22 October
Welcome to Dubai, where it's sizzling hot outside and chilly inside. We welcomed 387 attendees by the end of the first day of RIPE 75.
Sunday's programme highlights:
Later, attendees gathered by the pool to enjoy the warm Dubai evening for a Meet the RIPE NCC Executive Board social and the RIPE 75 Welcome Reception.
Our favourite tweets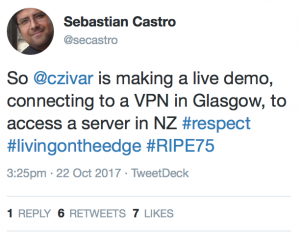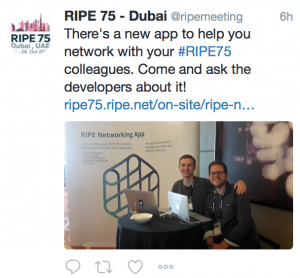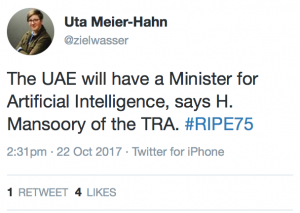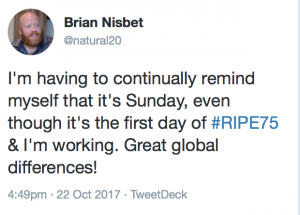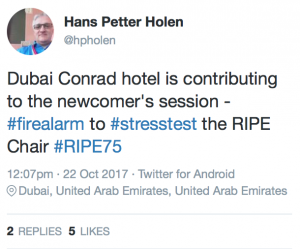 Monday, 23 October
Day two of RIPE 75 saw over 440 checked in attendees gather together at the Conrad Hotel, Dubai. Attendees continued to make the most of the RIPE Networking App with 230+ individuals logging in to schedule meetings and send messages to one another.
Monday's programme highlights:
A detailed overview of Internet Collector Engines
The question of how we go about the task of establishing jurisdiction online was tackled in the second plenary session of the day, prompting a range of interesting questions from the audience
The women in tech lunch was a huge success with a full audience and lots of discussion following two presentations – the lunch gave women working in the tech community in the Middle East the opportunity to share insights into projects and issues particular to their region
There was a talk on the question of whether the Internet is entering its very own Gilded Age, exploring the monopolisation of the digital world and the Death of Transit
There was a well-received update on the progress of the RIPE Accountability Task Force
The plenary sessions having come to an end, the Diversity Task Force met at 6pm to explore options for increasing participation and diversity at RIPE Meetings. Shortly after, there was a special reception to welcome all newcomers. Finally, with the meeting at a close for the day, guests boarded the buses for night of networking, tasty appetisers, drinks, and a whole lot of fun over at the beautiful Cielo Sky Lounge.
Our favourite tweets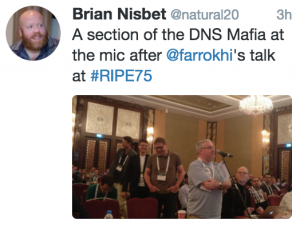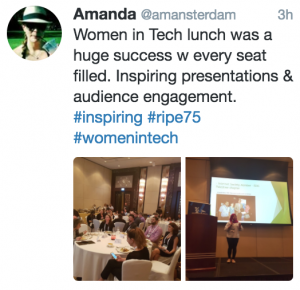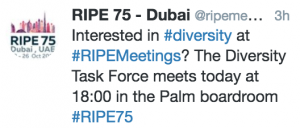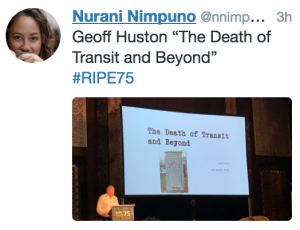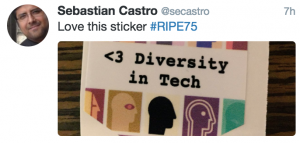 Tuesday, 24 October
Day three of RIPE 75 saw 460 attendees checked in for the first day of RIPE Working Group (WG) sessions.
Tuesday's programme highlights
Measurement Analysis and Tools (MAT) WG
A new UDP protocol – the keyed UDP – received a largely enthusiastic response
The RIPE NCC presented on the release of a set of geolocation APIs for estimating geolocation information and OpenIPmap
Christian Kauffmann stepped down as chair of the MAT WG with the audience applauding him for his efforts over the years
Address Policy WG
Feedback from the RIPE NCC on a number of issues:

An update on the clean-up of ALLOCATED PI/UNSPECIFIED resources in the RIPE Database
Outdated text references in the IPv4 policies
Uptake of 32-bit ASNs
Clarifying whether the IPv6 policies should be interpreted in a way that allows holders of multiple LIRs to request multiple IPv6 allocations
Clarifying whether the RIPE NCC's approach concerning IXP IPv4 assignments is correct

A discussion of a proposal to clarify IPv6 PI sub-assignments
Connect WG
A presentation on Inferring BGP Blackholing in the Internet received a lot of discussion and attention
The co-chairs requested feedback and more interesting content for the working group
Internet of Things (IoT) Session
RIPE NCC Services WG
Our favourite tweets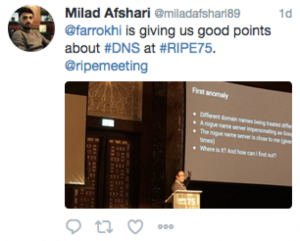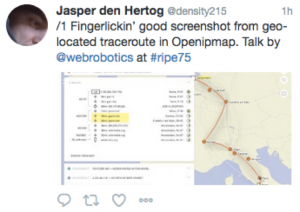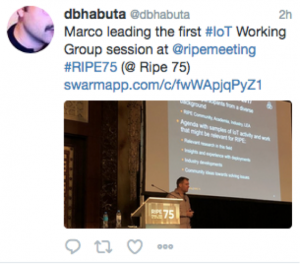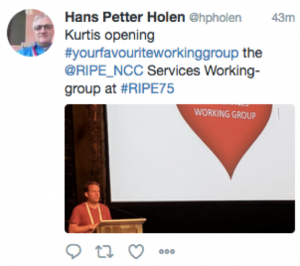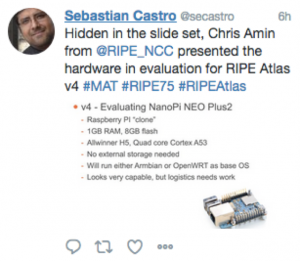 Wednesday, 25 October
There were 483 attendees checked in at RIPE 75 for another full day of RIPE Working Group (WG) sessions.
Wednesday's programme highlights
Routing WG
A discussion about the charter of the WG with support at the microphone for more focus on the IETF, IXPs and BGP security.
Joao Damas announced this would be his last meeting as co-chair and Ignas Bagdonas will take his place
A presentation from a RACI attendee on Power Prefix Prioritisation for Smarter BGP Reconvergence that prompted an active dialogue with the audience
A chart-filled look at BGP more specific announcements, with key findings noting that they add to the size and update of the BGP load, there's a decline in hole punching, overlays becoming more prevalent and IPv6 instability being higher than IPv4
A look at Pseudowire, a tunnel mechanism that carries traffic encapsulated in a lower layer like MPLS
A discussion on tackling foreign ROUTE objects in the RIPE Database
A mini BoF on Internet Routing Health Measurement
Cooperation WG
Open Source WG
Anti-Abuse WG
Database WG
DNS WG
IPv6 WG
The day's programme ended with a workshop on configuring CPE for transition mechanisms. Attendees then boarded buses and headed off to the final social of the meeting week, the RIPE 75 Dinner at the Dubai Marine Resort.
See you tomorrow for the last day of RIPE 75.
Our favourite tweets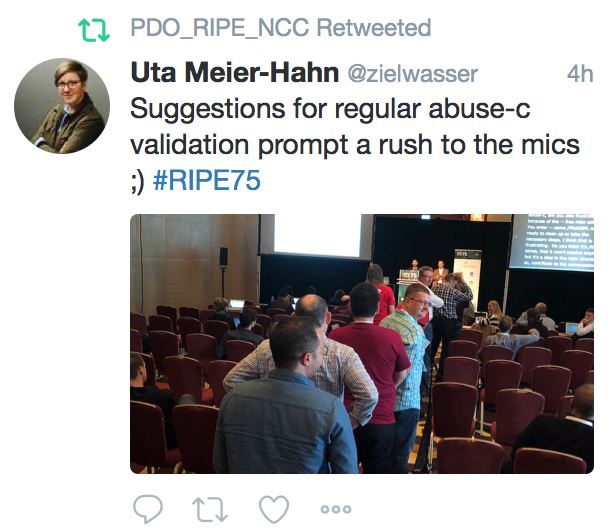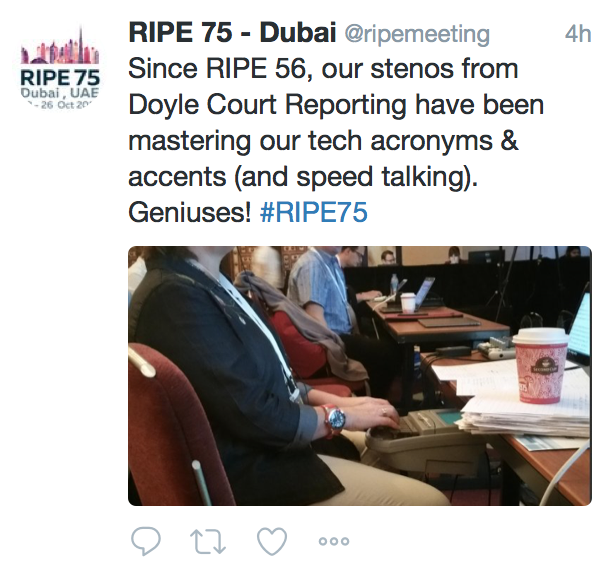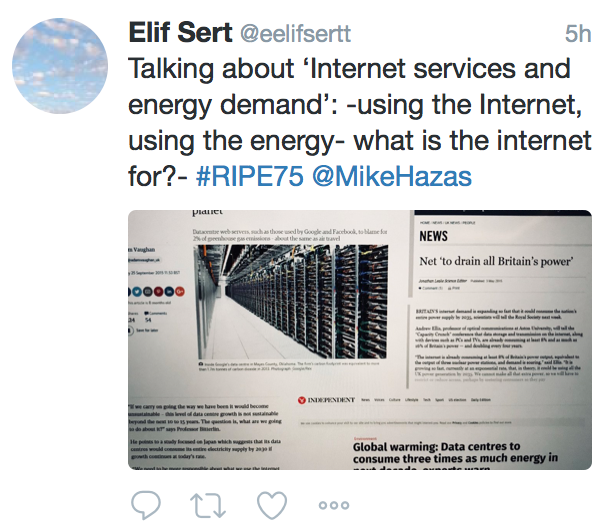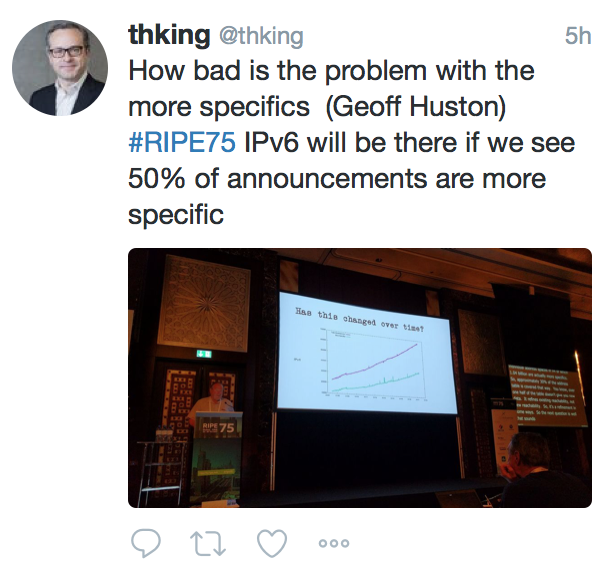 Thursday, 26 October
Thursday's programme highlights
A special emphasis on funds dedicated to community/industry development – including women in tech initiatives – in the various RIR service regions: AFRINIC (FIRE Africa), APNIC (APNIC Foundation), RIPE NCC (RIPE NCC Community Projects Fund), LACNIC (FRIDA regional fund for digital innovations).
A description of activities to increase awareness of, and enhance participation in, the Policy Development Process.
A presentation on the findings of the ASO Review Report,  presenting three options to be considered for next steps in the Internet number community:

Status quo
Increased coordination
Adoption of two-house "ASO Council"

An epic journey through SUNET's comprehensive renovation of a Swedish fibre network.
A description of Akamai's traffic optimisation via the implementation of a multiservice backbone solution.
A peek into the specificity of UAE customs codes, and the joy of surprise power outages due to vacuum cleaner interference.
Meeting Statistics:
483 attendees checked in
176 first-time attendees
RIPE Networking App (totals for the week): 251 participants; 561 messages; 741 meetings!
Attendees from more than 54 countries
RIPE Working Group co-Chair Changes
MAT WG: Brian Trammell replaces Christian Kaufmann
Routing WG: Ignas Bagdonas replaces Joao Damas
DNS WG: Joao Damas replaces Jaap Akkerhuis
Database WG: David Hilario stepped down
IoT WG: Jim Reid volunteered to be chair-elect
RIPE Programme Committee Changes
Thank you to outgoing PC members Jelte Jansen, Alex Semenyaka and Mike Hughes
Welcome to new PC members Khalid Samara and Dmitry Kohmanyuk
Elise Gerich, VP of ICANN and IANA/PTI, NANOG co-founder and beloved community member, announced her retirement. Hans Petter Holen, on behalf of the RIPE community, thanked Elise for her many years of service.
Hans Petter Holen announced the IoT WG Proposed Charter and the RIPE Diversity Task Force Draft Charter.
The RIPE NCC Executive Board appointed Hervé Clément as NRO NC representative from the RIPE NCC service region.
Our favourite tweets: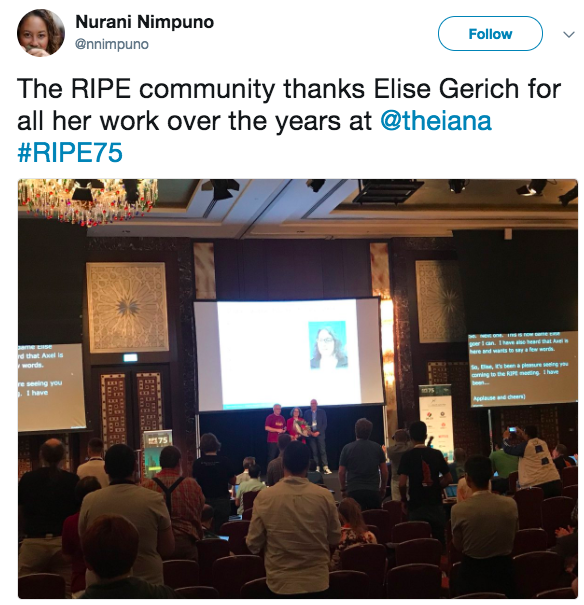 Thank you for making RIPE 75 a success. See you all at RIPE 76 in Marseille from 14-18 May 2018.